Lamella shunts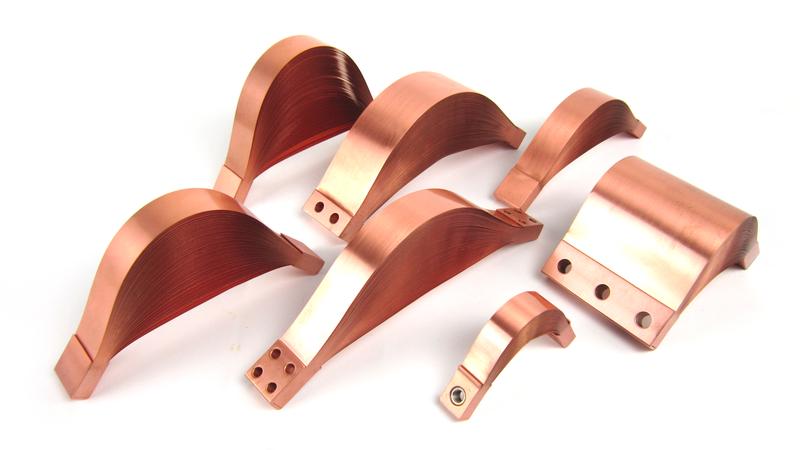 Riveted lamella shunts
Lamella shunts are used for flexible transmission of electricity. They are made of several lamellas that are layered atop one another. The single lamella thickness values we use range from 0,1mm to 0,5mm. Lamella shunts can perform any single-axis movement. They offer excellent electricity transmission and good air cooling thanks to their large surface.
The layered single lamellas are riveted or pressure-welded at the junctions. Riveted lamella shunts are characterized by long life and outstanding flexibility. Riveted, soldered and pressure-welded lamella shunts are frequently used in switchboard plants and welding machines. They are also designed for use as heat exchangers to balance mechanical or electromechanical vibrations.
Copper is used as the basic material, which we can also coat according to your needs. Lamella width varies from 10 to 250mm. We can machine the component holes to meet your requirements.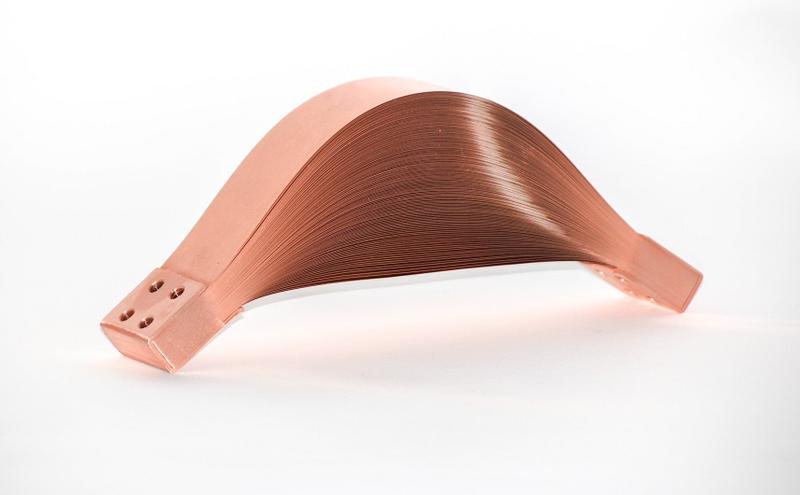 Lamella shunt This riveted flexible lamella shunt is made of several lamellas layered atop one another. The ends are riveted by means of two sheet plates or a bent U-shaped metal sheet.
› Download data sheet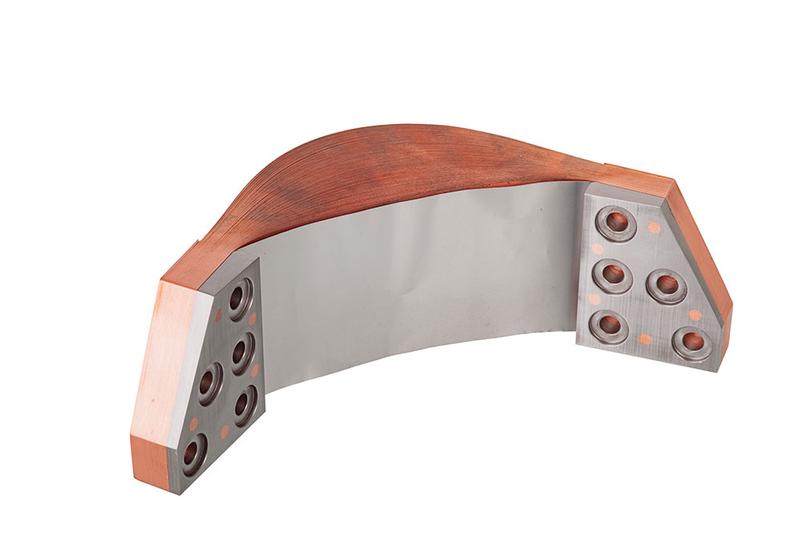 Stainless steel lamellas can be integrated both internally and externally for particularly strong stresses.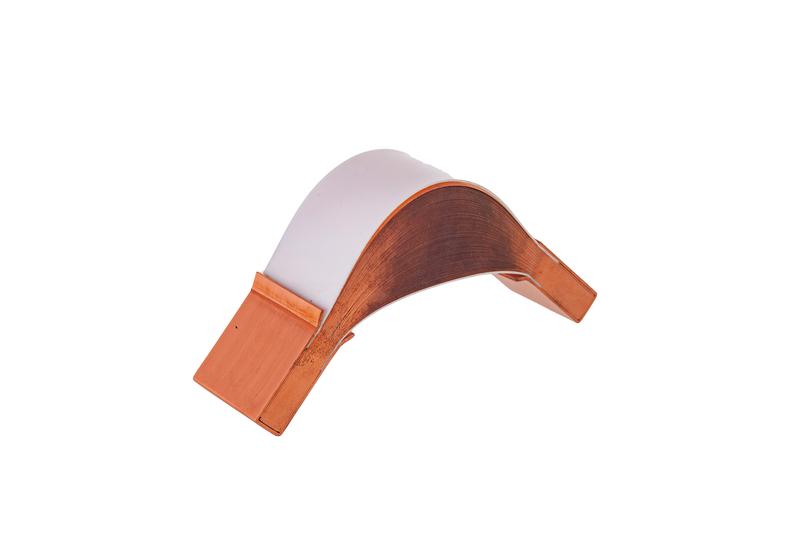 The external lamellas can be coated with insulating materials made of Teflon or plasticised PVC films for high temperature ranges. This does not affect the excellent flexibility and conductivity.
We offer several coating options.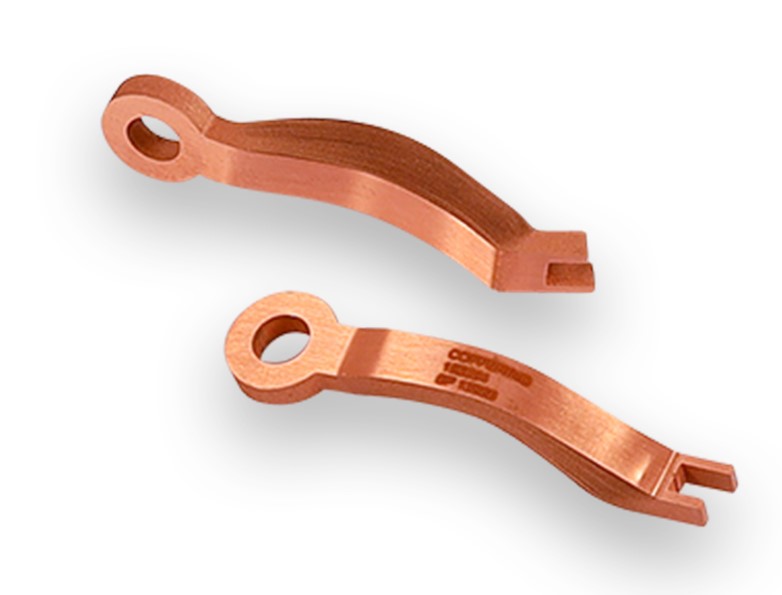 Pressure-welded lamella shunts
Thanks to their adhesive bonding, pressure-welded lamella shunts transmit electricity even more effectively.
They offer the same properties as the riveted lamella shunts but need less clearance for installation.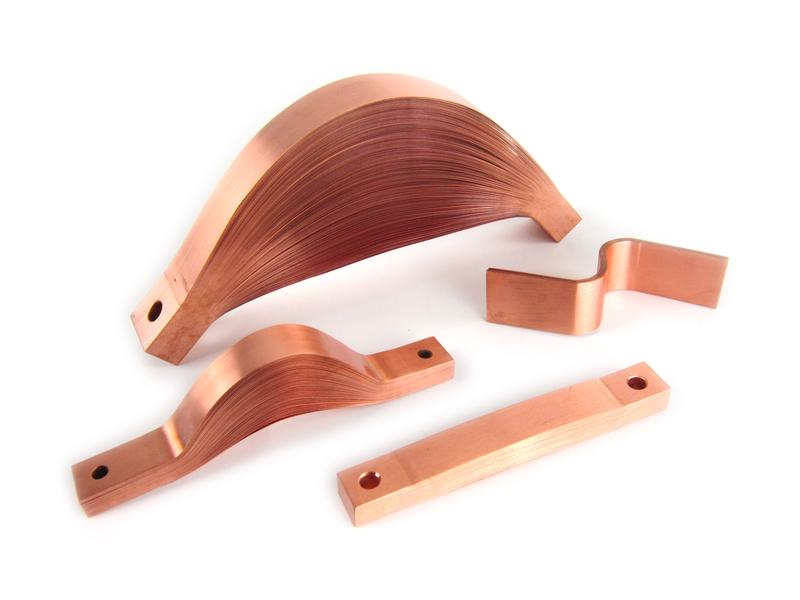 The dimensions of the pressure-welded lamella shunts vary according to the customer requirements.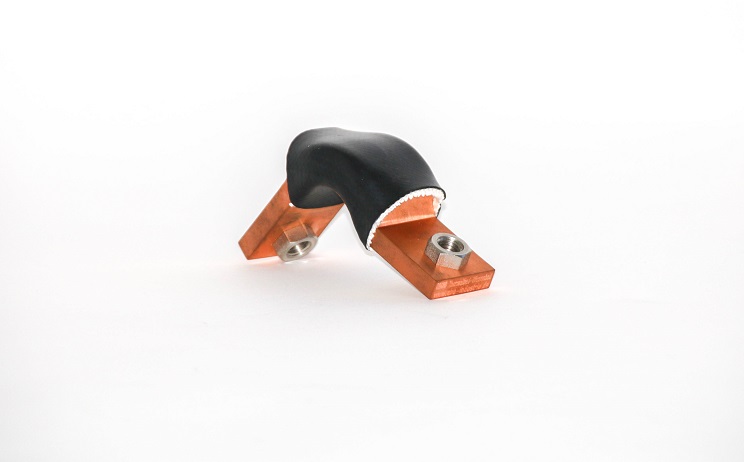 Pressure welded lamella shunt with pressed-in thread and insulating plastic tube.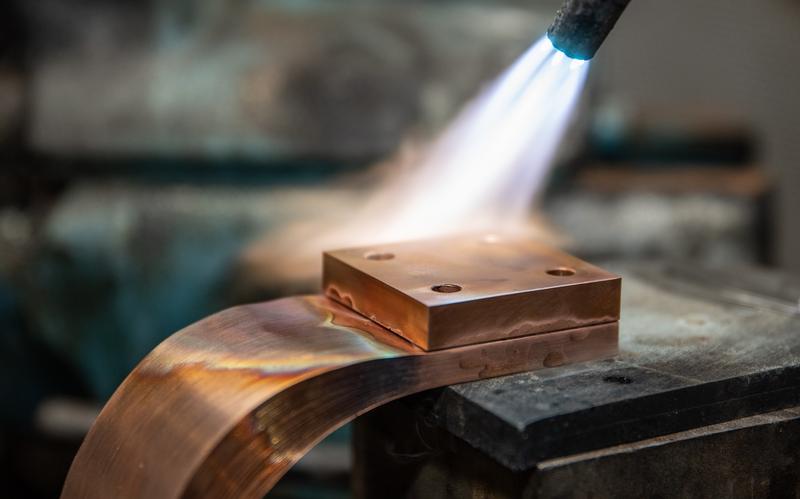 Lamella shunts with annexed parts and special shunts
We offer customized solutions for specific installation situations with minimal clearances.
For the annexed parts, cooling holes, insulating plates, and/or various surface coatings can be chosen.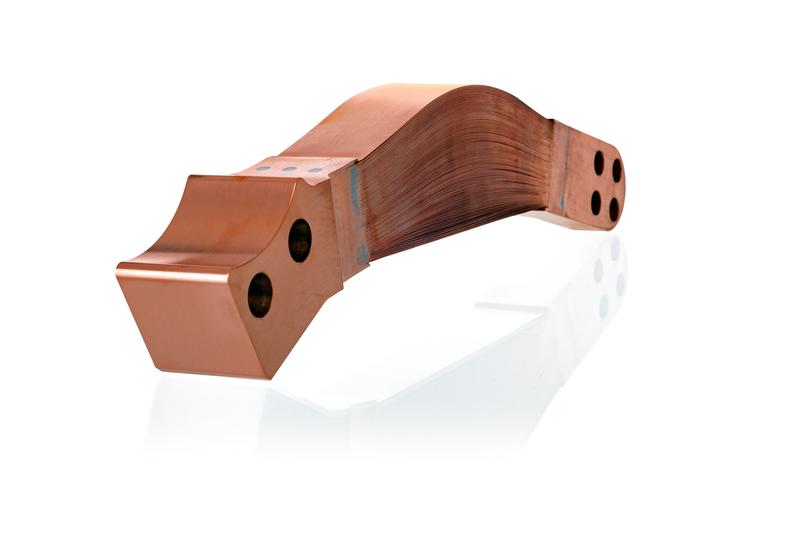 Customized connection design according to customer's requirements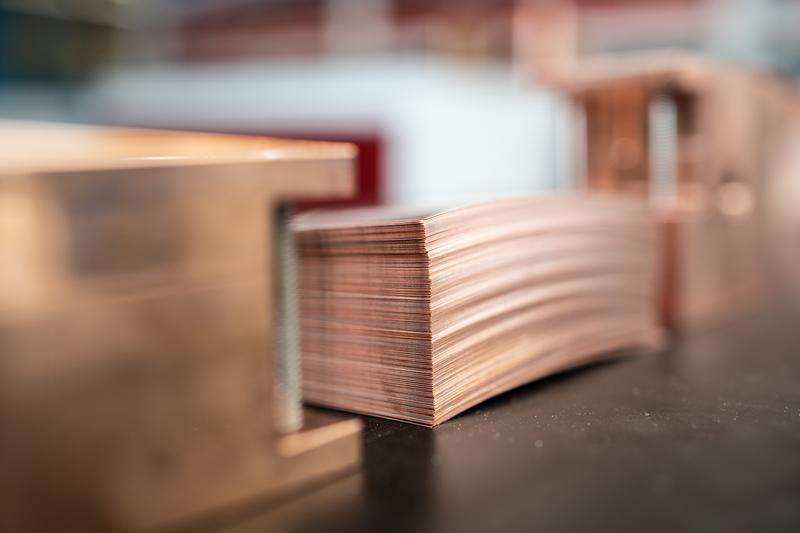 Large cross sections with flexible options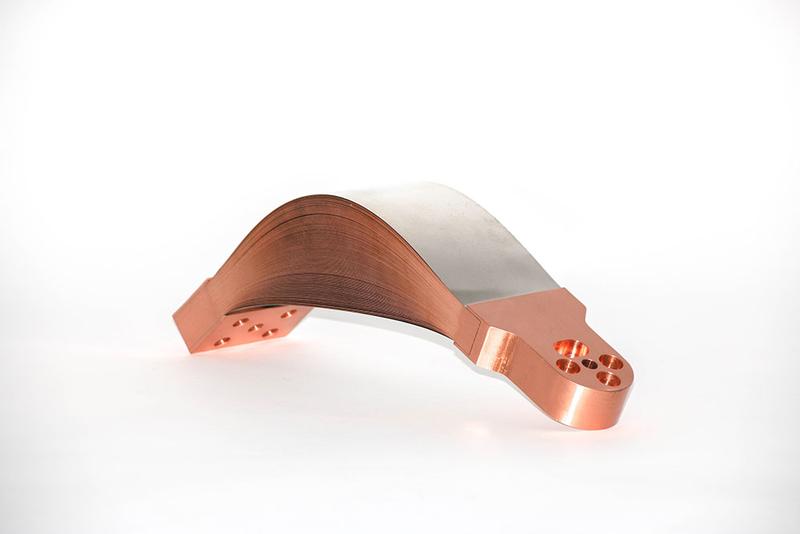 The connecting areas can be manufactured according to the customer requirements and are connected to the lamellas by means of rivets and additional soldering.
› Download data sheet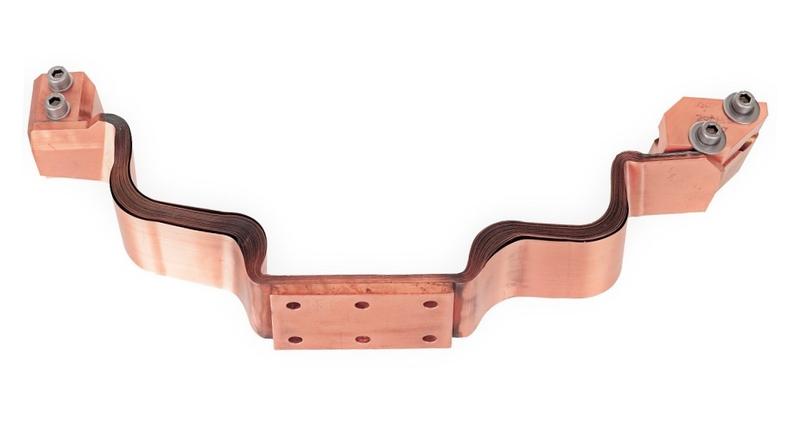 Contact terminals in solenoid valves for special designs. The ends were pressure welded and the connecting pieces were joined using a special solder for a range of use from -269 to +35 °C.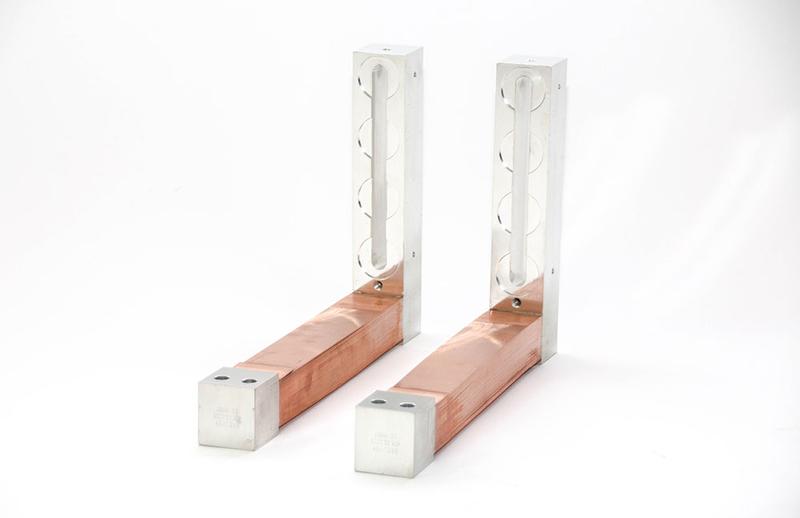 We offer several coating options.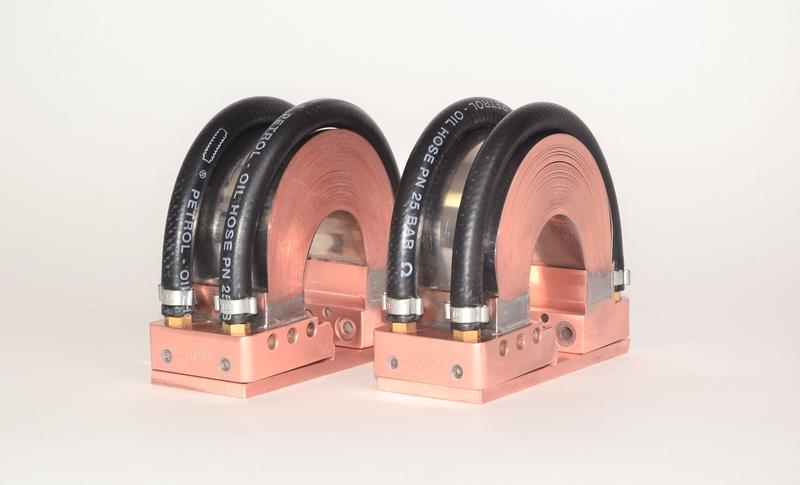 Externally ventilated lamella shunts
Braided shunts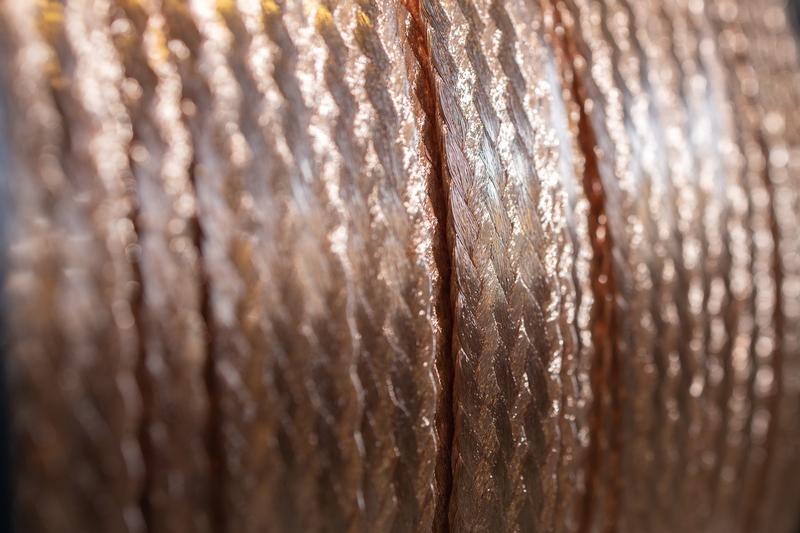 Flat braided shunts
Flat braided shunts are made of several hundred individual filaments that are interwoven.
The flat shunts made of this braid are processed in cross-sections of 16 to 140 mm².
Per braided shunt, up to 20 layers can be placed atop one another to enlarge the total cross section of a flat braided cable.
The connections are mechanically compressed with a tube jointing sleeve and thus offer homogeneous distribution of the flat braid within the connection areas.
We also offer a tin coating of the braids and the annexed parts.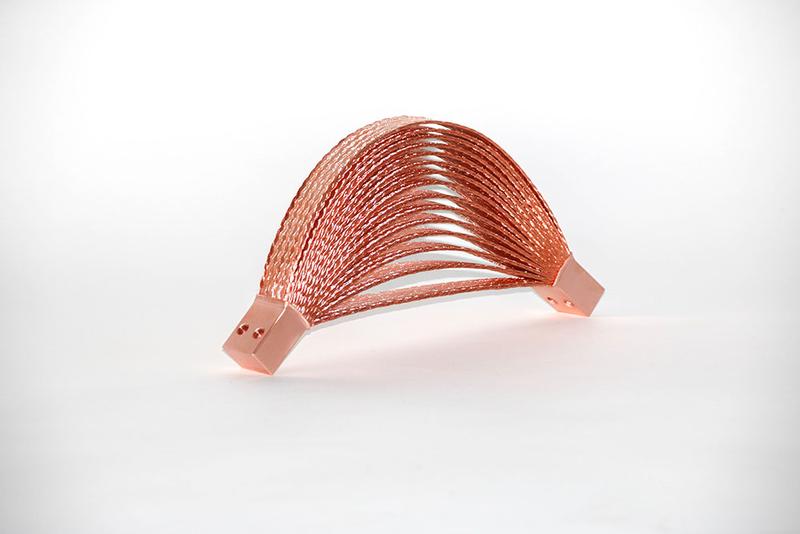 The cross sections are modified according to customer requirements and vary from 6 to 4000 mm².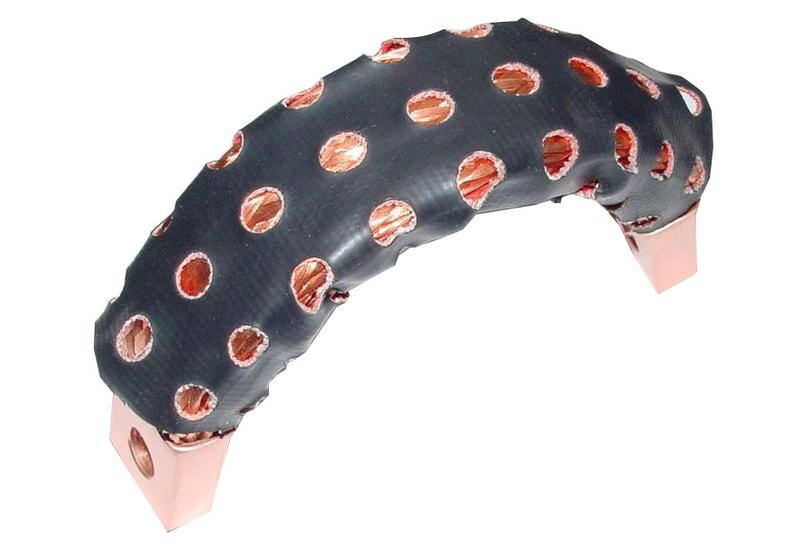 Please also request our insulating plastic tubes.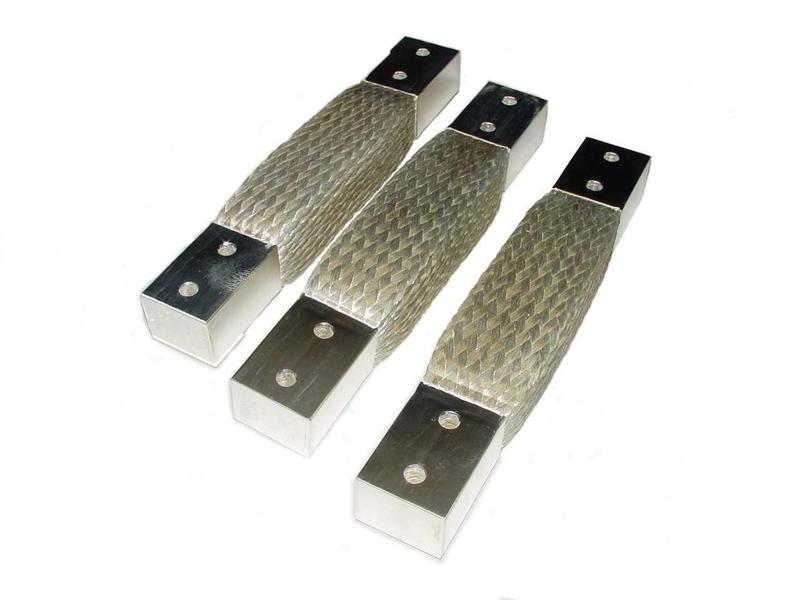 We provide each braided shunt with tinned connections. At 35mm² (cross section), it is also possible to manufacture the single wires with tinning.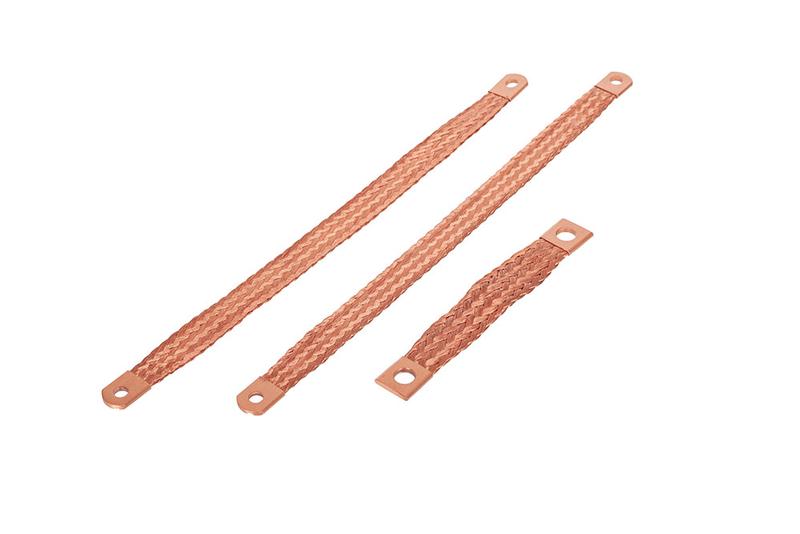 Ground cables with customized connection types and cross sections.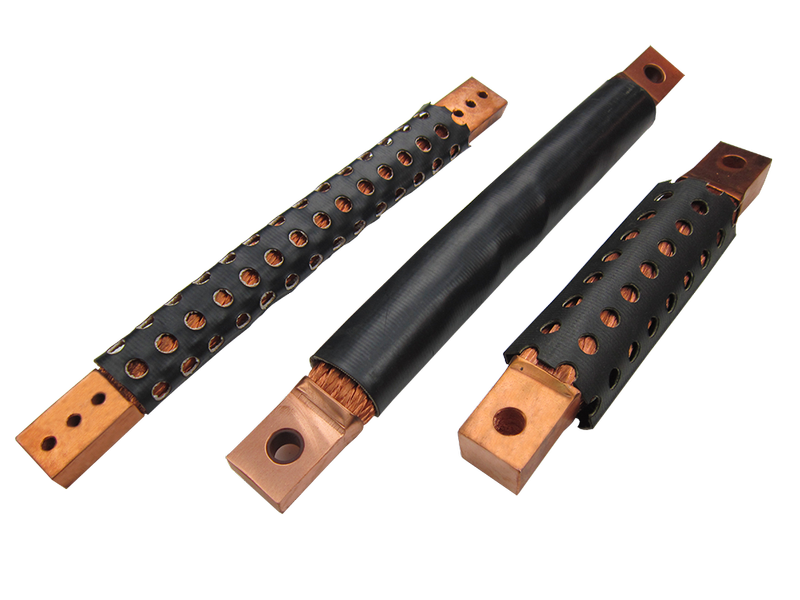 Round braided shunts
Round braided shunts are made of a several hundred individual filaments that are interwoven.
The braid, which is made by homogeneous twisting, distributes the electricity across the entire cross section and is extremely flexible.
Upon request, we can make the individual filaments particularly thin. This highly flexible design makes the shunt even more movable and allows it to move in any direction without any expenditure of force. Round braided shunt cables offer homogeneous movability in all directions. You can order them with an individual wire thickness of 0,13mm or 0,08mm as a highly flexible cable.
These cables are primarily used in spot welding guns, resistance welding machines, and robot-guided welding guns, as well as in applications that have to provide multi-axial movements.
We deliver service cables cross sections from 200 mm² to 600 mm². The cables are made and delivered according to customer's requirements, ISO, or the factory standards of the automotive industry.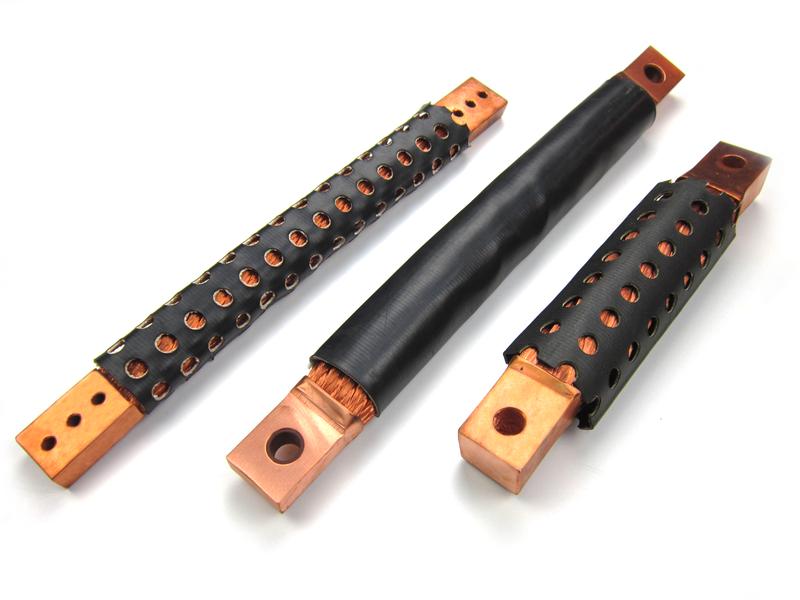 Standard connecting cable of 200 to 800mm²cross section. Perforated and unperforated insulating plastic tubes are also an option.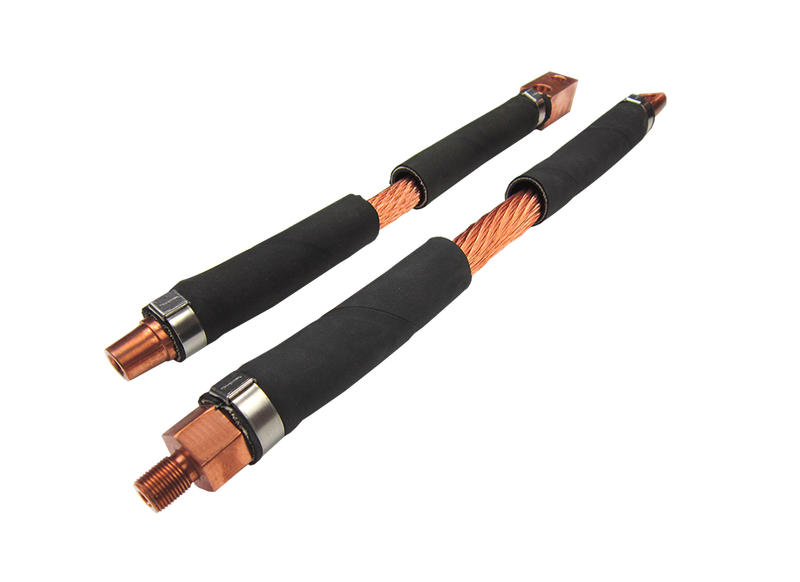 Water-cooled round braided shunts
For even higher current loads and shorter cycle times, we also offer our round braided shunts in a variant that is cooled by water. Here the braid filaments are immediately rinsed by cooling water.
These shunts are slightly limited in flexibility. The bending radius must not be less than 5 x cable diameter.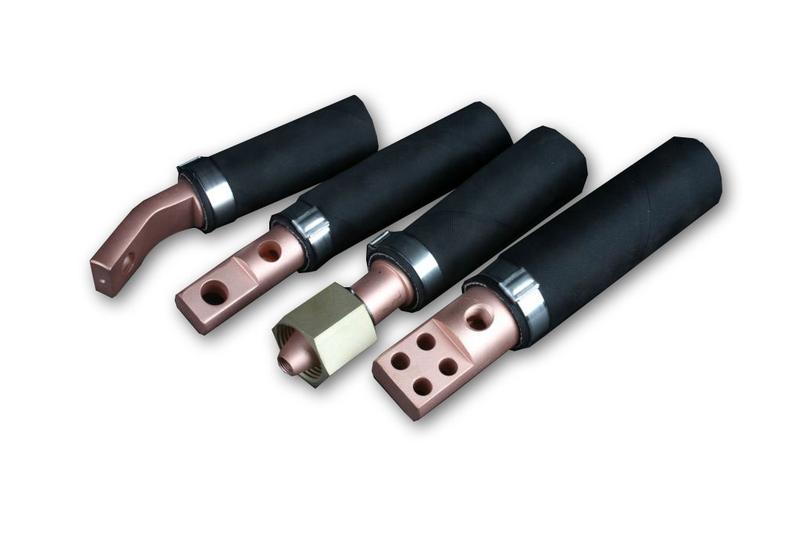 We offer various connecting options for an optimal connection to your equipment.
CNC machining of aluminum, copper and tungsten carbide materials
With our equipment, we can produce anything from simple to very complex milling parts. To allow for short delivery times, our preferred materials, such as E-Cu (electrical copper), SE-Cu (disoxidyzed copper), and Titanal (aircraft-grade aluminum) are always on hand. We manufacture for our customers, among other things, several types of connectors, copper electrodes, mechanical parts, gear unit parts, and housing parts.
A special gun drilling machine makes it possible to manufacture cooling ducts and other holes with minimal tolerances and the highest precision. This is used, among other things, for electrode arms or connector parts.
Another advantage is machining of hardened steel and tungsten carbide parts with our CNC wire EDM machinery.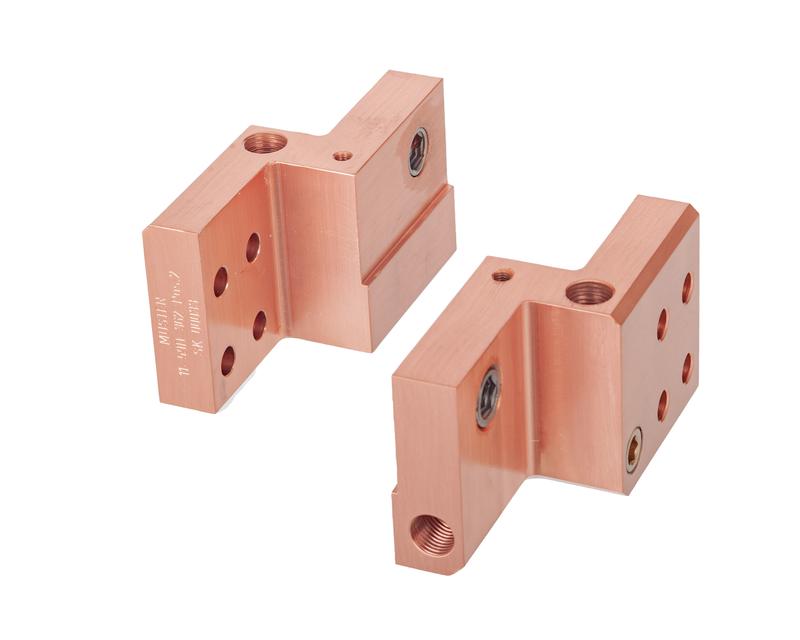 We machine your milling parts with the greatest precision on the latest CNC milling machines.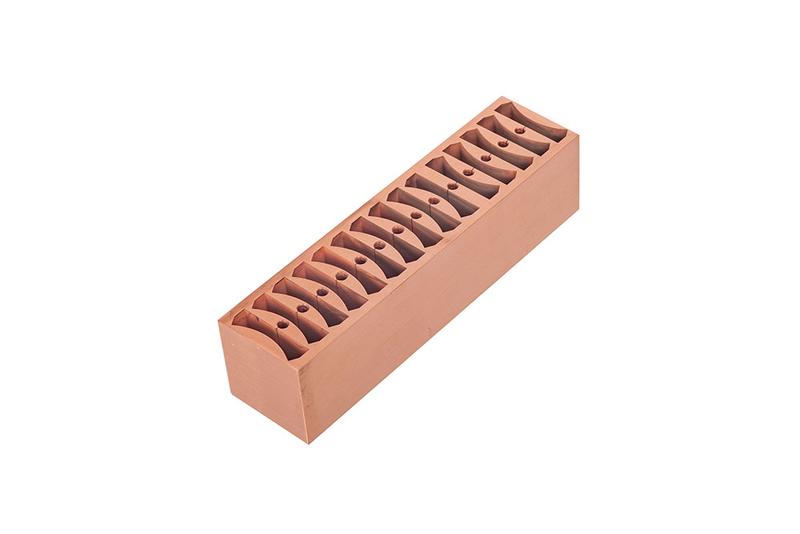 ... we machine your milling parts with the greatest precision on the latest CNC milling machines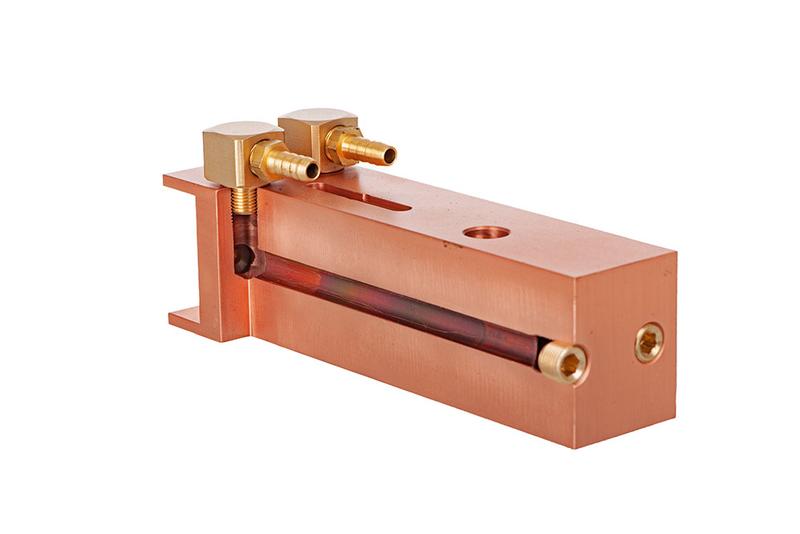 … for optimal cooling of machinery, we produce the cooling ducts on our gun drilling machines
Cutting tips
In addition to the parts for electrical engineering, the company has also comprehensive cutting tips' manufacturing expertise.
We engineer and produce special cutting tips made of various high-performance cutting materials for our customers.
They can also be better adapted to the requirements of our customers through several surface treatments and coating.
From sample production and single parts to series manufacturing – our vast array of machinery makes it all possible.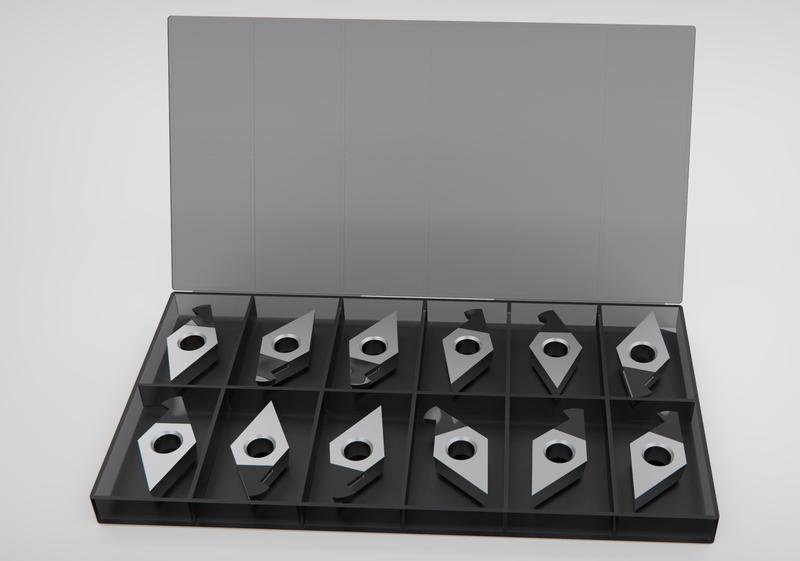 We engineer and manufacture special cutting tips made of different high-performance cutting materials for our customers.